How Many Documents And Records
Do You Need To Produce For Each Item?
From the prototype to the final product, each SKU likely has hundreds of documents of record. You need and effective, efficient documentation process to manage all of those records.
If you're physically documenting everything using paper recordkeeping systems, that's a lot of paper. Not only are paper systems rarely efficient, but paper documents take up exorbitant amounts of space. Filing them is likely time-consuming and finding a record when you need it can be difficult, if not downright impossible.
Document Digitization
Can Change Everything
Scan-Optics is the experienced digital transformation partner you need to make the switch to digital. Using our AI-powered easy.forward™ technology, we scan your documents and convert them into digital files with 99.99% accuracy.
All of your records can be perfectly organized in one centralized database with a simple search function for easy access.
Keep Your Facility Organized And Efficient
Converting physical documents into digital ones lets you:
Improve speed to conduct research
Increase access of data across departments and locations
Unify information for online access
Repurpose expensive real estate
Streamline overall records management functions
Optimize all your business functions with document conversion.
Beyond Documents…
Our digital transformation offerings are extensive. Scan-Optics has solutions to suit any issue of disorganized data management, inefficient business processes, or outdated recordkeeping systems.
Microfilm and Microfiche Conversion

Document & Records Management
Robotic Process Automation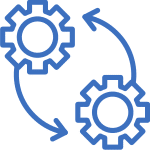 Business Process Optimization
Your Digital Transformation Journey
Is Your Own
Every client comes to us with different areas of difficulty.
No matter your needs, we're prepared to meet them. We design custom solutions to help our clients eliminate their pain points, streamline their operations, organize their data, and become major competitors in their fields.
The Benefits Of Digital Transformation In Manufacturing
Quickly search documents when and where you need them
Store all your documents securely
Automate policies, records, and other data
Assign unique access to documents
Respond to customer requests expediently
Accurately process data
Free up floor and office space
Drive more value to your products
Improve your strategic process
Devote more time to customer service
Reduce administrative expenses
Adhere to all compliance standards without error
Streamline manufacturing vendor management
Optimize document storage and retrieval
DIGITAL TRANSFORMATION Is A NUMBERS Game
Bring Your Organization Into The Digital Age
You Can Achieve Incredible Results When You Partner With Scan-Optics. Our Solutions Can Address Every Aspect Of Your Business.
DIAGRAMS
PRODUCTS AND PROCESS PATENT DOCUMENTS
PLANS AND DESIGNS
QUALITY CONTROL AUDIT REPORT
LOG BOOKS
PRODUCT AND MANUFACTURING LIFE CYCLE STUDIES
WORKFORCE TRAINING RECORDS
MATERIALS MANAGEMENT AND PARTS HISTORY RECORDS
WRITTEN CORRESPONDENCE
HR AND PERSONNEL FILES
ENGINEERING CHANGE ODERS
TRAVELERS
ENGINEERING BLUEPRINTS
SERVICE AGREEMENTS
BILL OF MATERIALS
PRINTED MANUALS AND BOOKS
MASTER BATCH RECORDS
INSPECTIONS AND CERTIFICATIONS
ROUTE SHEETS
REGULATORY COMPLIANCE STATEMENTS
CUSTOMER AND PURCHASE ORDERS
WORK ORDERS
ACCOUNTS PAYABLE AND ACCOUNTS RECEIVABLE
PRINTED DOCUMENTS
GOVERNMENTAL REGULATIONS AND REQUIREMENTS
INDUSTRY RECOMMENDATIONS AND GUIDELINES
Bring Your Organization Into The Digital Age
Speak with a Manufacturing Digitization Expert Today