Intelligent Data Management
There's a reason it's called intelligent data management
Your data should work for you, not the other way around
Put your data to work with intelligent data management so you can work smarter—not harder
Digital Transformation Reimagined
Every organization's digital transformation looks different. Our tried and true multi-step approach to the digital transformation process allows us to cater our solutions to each client's unique needs.

Whether we realize it or not, all information goes through a lifecycle. At most companies, this lifecycle begins at document creation and ends at secure destruction. Scan-Optics is here to support you through the entire information lifecycle journey.
Our information management solutions put all of your information at your fingertips, wherever you go, without compromising your data security. No matter what, we've got you covered.
What Is Digital Transformation?
Digital transformation is a broad term referring to the evolution an organization undergoes transforming itself from manual processes, evolving to the use of connected workflows leveraging innovative digital technology.
Why Digital Transformation Is Important?
-Drive new revenue
-Work from anywhere
-Increase speed and efficiency
-Improve customer service
-Gain competitive edge
As a full-service digital transformation partner, we offer a comprehensive suite of digital solutions.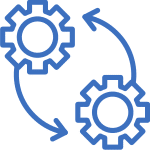 Business Process Optimization
With Digital Transformation You Can:
Work with speed and efficiency
Streamline your business processes
Automate repetitive tasks
Simplify new hire onboarding and training
Efficiently manage a remote workforce
Reclaim Real Estate
Protect your information
Boost employee morale
Mine data for valuable insights
Attract new employee talent
Organize company records
Maximize your budget
Ready to Learn About More of the Applications and Benefits of Digital Transformation?
Digital transformation is no longer a nebulous future objective—it's an imperative in the present.
Improved Operational Efficiency
Take Advantage of These Benefits and More by Partnering With Scan-Optics
Unparalleled Service
And Support
Digital transformation doesn't have to mean venturing into the great unknown. Scan-Optics will update your processes by integrating our solutions with your existing technology.
We offer training, onboarding, and access services to ensure your entire team is equipped to make the most of your new digital technologies.
"There's a comfort knowing that anytime we've contacted Scan-Optics, we've heard back immediately. It's made an enormous difference moving to Scan-Optics."
– Guillermo Garcia, OTM & Labor Systems and Data Manager for Hartford Public Schools
About Us
You want a digital transformation partner you can trust. Scan-Optics has over 50 years of experience in the fields of intelligent information management and digital transformation. Since 1968, we've been working to tailor technology to human needs using solutions that are detailed, personalized, secure, and effective.